Extend your range through curated products and gain complete control
Successfully growing businesses comes down to a couple of simple things – either grow by adding more customers or by adding more products. While finding new customers is difficult if you're not offering anything new, making more choice available to existing customers is exactly what you can do with dropshipping, with no additional risk. And with more choice comes more sales. What's more, by selecting the suppliers you use, the range of products you sell and at what price, allows you to keep complete control of your brand image and strategy.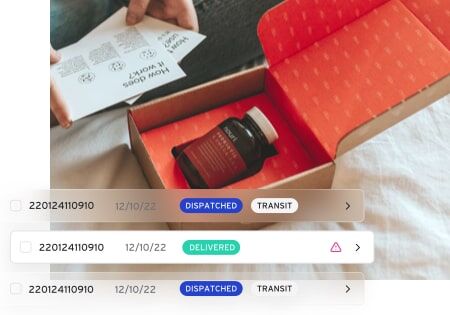 A platform that maximises your sales without increasing your risk
No need to build and stock more warehouses to increase your online sales offering. Expand your range by leveraging the trusted networks that you already have and feature an expanded range of their products. They still hold the stock but you're offering a bigger shop window to your customers and an all-round richer buying experience. And the beauty is you only buy the stock at the exact moment your customer buys it from you online. In addition, the sophisticated tracking system results in WISMO (Where is my Order) requests being reduced, saving time and money in customer service departments.

Let's take a look at all the features and functionality modules we'll supply
Orders and Returns Management
Take advantage of DOM (Distributed Order Management) which thousands of suppliers can interface with. Meeting customer expectations and maximising order fulfilment.
Stock Updates
Receive accurate stock updates directly from suppliers and automatically reflect those on your website to ensure there is no time lapse which can lead to over-selling and its associated problems.
Track and Trace
Constantly check status of orders post dispatch, improve efficiency in 'The Final Mile' and greatly improve OTIF (On Time in Full) scores through ensuring customers receive their goods when they expect to.
Invoice Reconciliation
Complete transparency and efficiency between retailers and suppliers. Invoices are created in a standardised format and sent back to the retailers where both parties can view them.
Product Induction
Improve product induction times significantly with Virtualstock by replacing manual 'New Line Forms' to set up products. Streamline product data from multiple suppliers and accelerate the speed to market for key categories.
Reporting
In-depth reporting including Supplier Compliance Reporting so that you can be confident suppliers are performing to the same standard as your own business and as close to your own distribution model as possible.
"Virtualstock is a key technology partner to Robert Dyas and has enabled us to deliver huge online growth. Over two thirds of our online sales are now driven by dropshipping and Virtualstock has allowed us to scale this business profitably whilst also improving customer experience."
Theo Paphitis
Chairman, Theo Paphitis Retail Group
"Virtualstock has vastly improved our ability to onboard new suppliers and products. It's the reason for our rapid growth and success."
David Stenlake
Dropship Manager, Harvey Norman Australia